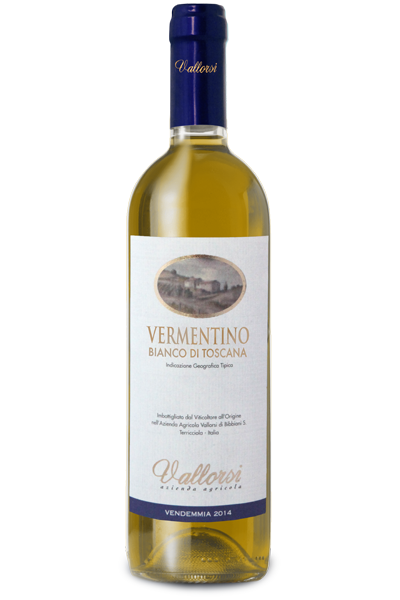 Vermentino
The floral freshness of Vallorsi
IGT Toscana White
VARIETY: Vermentino
SOIL: sandy mixed (90%) of very light color, not very deep
EXPOSURE: west
PLANT DENSITY: 4,200 plants per hectare
TRAINING SYSTEM: spurred cordon laid at 90 cm
PRODUCTION PER HECTARE: 80 quintals
VINIFICATION
The hand-picked grapes are transported to the cellar. After careful selection, they are de-stemmed and crushed. The must is clarified and fermentation is carried out at a controlled temperature of 15-16 ° C in steel.
Bottles produced: 10,000 per harvest
TASTING NOTES
Color: straw white
Bouquet: intense, fruity and varietal
Palate: Dry, complex and slightly acidic flavor
PAIRINGS:
Appetizers, fish and shellfish.
SERVICE TEMPERATURE
10 ° / 12 °

The Azienda Vallorsi is located in the heart of the Tuscan countryside, in the center of the wine route of the Pisan hills.
Vallorsi is one of the most prestigious wineries in Tuscany, with its six apartments it is also a comfortable and spacious farmhouse, ideal for a stay in which to relax in the charm of the surrounding nature.
Email: info@vallorsi.it
Tel: 0587 658470
Opening Hours 8.00 – 17.30