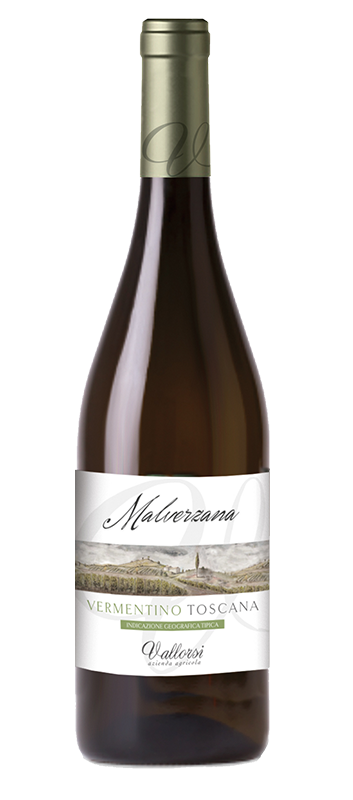 Vermentino
It was in the 1990s that Nonno Mario ingeniously drew upon the Malverzana, the grape variety most exposed to the sun. A fresh, persistent taste, well bodied, with a balanced acidity and a dry, fruity flavour.
PROTECTED GEOGRAPHICAL INDICATION (IGT)
---
Grape Varieties: Vermentino
Soil: Sandy mix (90%), very light coloured, shallow.
Vine Density: 4,200 plants per hectare.
Planting System: Guyot, staked at 90 cm.
Production per Hectare: 8000 kg.
---
Production Technique: The grapes are transported to the
winery after harvesting by hand. After careful selection, they are
stripped and pressed. The must is clarified and fermentation is
brought to a controlled temperature of 15-16°C in steel.
After fermentation, the coarser sediment is racked away and
aging begins on the fine sediment with weekly stirring until
January.
---
Bottles produced: 10,000 per harvest
---
TASTING NOTES
Light straw yellow. Well structured. The first
hit of the bouquet expresses the fruity part dominated by the
fragrance of Golden Delicious apple, followed by a slightly sweet
floral taste of broom and completed by hints of crushed tomato
---
Accompaniments: Not forgetting the inseparable pairing of
fish-Vermentino, the good structure also makes it an excellent
match for white farmyard meats such as chicken, rabbit and
turkey, cooked according to Tuscan tradition.
A strong supporting act to the classic Tuscan antipasto,
including the difficult-to-match chicken liver crostini. It also does
a fine job of accompanying seafood and vegetable starters.
---
SERVING TEMPERATURE
10 ° / 12 °

The Azienda Vallorsi is located in the heart of the Tuscan countryside, in the center of the wine route of the Pisan hills.
Vallorsi is one of the most prestigious wineries in Tuscany, with its six apartments it is also a comfortable and spacious farmhouse, ideal for a stay in which to relax in the charm of the surrounding nature.
Email: info@vallorsi.it
Tel: 0587 658470
Opening Hours 8.00 – 17.30