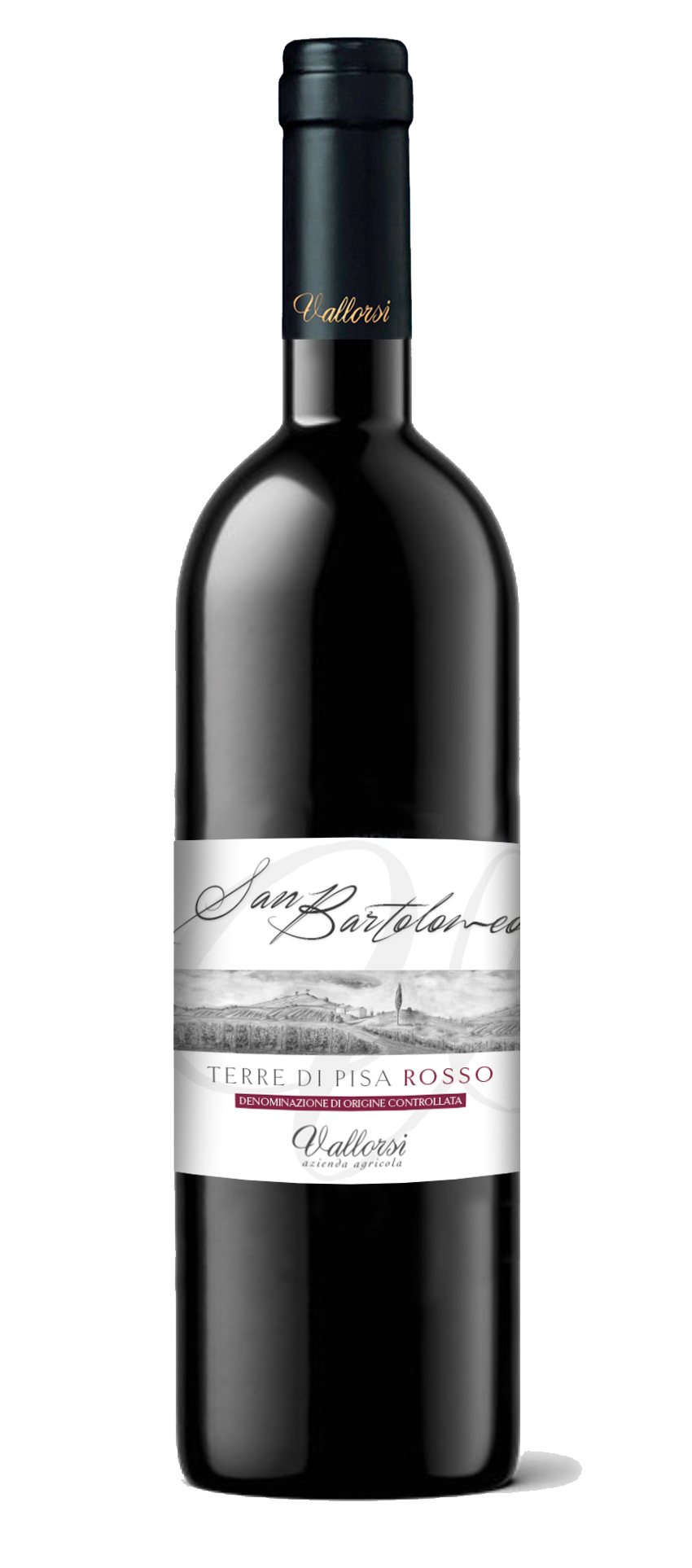 San Bartolomeo
An amazing red produced from Sangiovese, Merlot,
Cabernet Sauvignon and Syrah grapes, expressing all the
special characteristics of the area around the Vallorsi estate.
An important name, that of the patron saint of nearby
Morrona.
The top of the range lives up to expectations.
TERRE DI PISA ROSSO D.O.C. – CONTROLLED DESIGNATION OF ORIGIN
---
Grape Varieties: Sangiovese, Cabernet Sauvignon, Merlot
and Syrah.
Soil: Sandy (85%) with clay (10%) and silt (5%), light
coloured, average depth.
Vine Density: 4,200 plants per hectare.
Planting System: Runner system staked at 90 cm.
Production per Hectare: 5000 kg.
---
Production Technique: The grapes are harvested by hand
and placed in the classic tubs before being emptied into
a special trailer for transport to the winery. After careful
selection, they are stripped and pressed. This is followed
by 13/15 days of maceration, depending on the vintage,
with frequent racking at a temperature of 28°C. Malolactic
fermentation is in steel tanks. First, second and third step
aging is in barriques for at least 12 months, followed by a
minimum of 4 months aging in the bottle.
---
Bottles produced: 4,000 per harvest.
---
Tasting Notes: An intense ruby red, and a high-impact
bouquet in the delicious notes of blackberry and plum.
Balsamic with hints of laurel and myrtle, pleasant sensations
of white pepper, liquorice and ink. Structure with an exuberant
tannic texture, yet smooth, complex and rewarding on the
palate. Long and extremely pleasant end note.
---
Accompaniments: A wine for meditation, used as a table
wine for the most important accompaniments. Outstanding
with stewed game, especially furred game, even in sweet and
strong sauces, thanks to its wonderful tannic concentration
that cleans the palate. Perfect for meat that is slow cooked,
for example braised or stewed.
A highly intriguing, out of the ordinary accompaniment for
flakes of 60%-70% dark chocolate.
---
SERVING TEMPERATURE
18 ° / 20 °

The Azienda Vallorsi is located in the heart of the Tuscan countryside, in the center of the wine route of the Pisan hills.
Vallorsi is one of the most prestigious wineries in Tuscany, with its six apartments it is also a comfortable and spacious farmhouse, ideal for a stay in which to relax in the charm of the surrounding nature.
Email: info@vallorsi.it
Tel: 0587 658470
Opening Hours 8.00 – 17.30