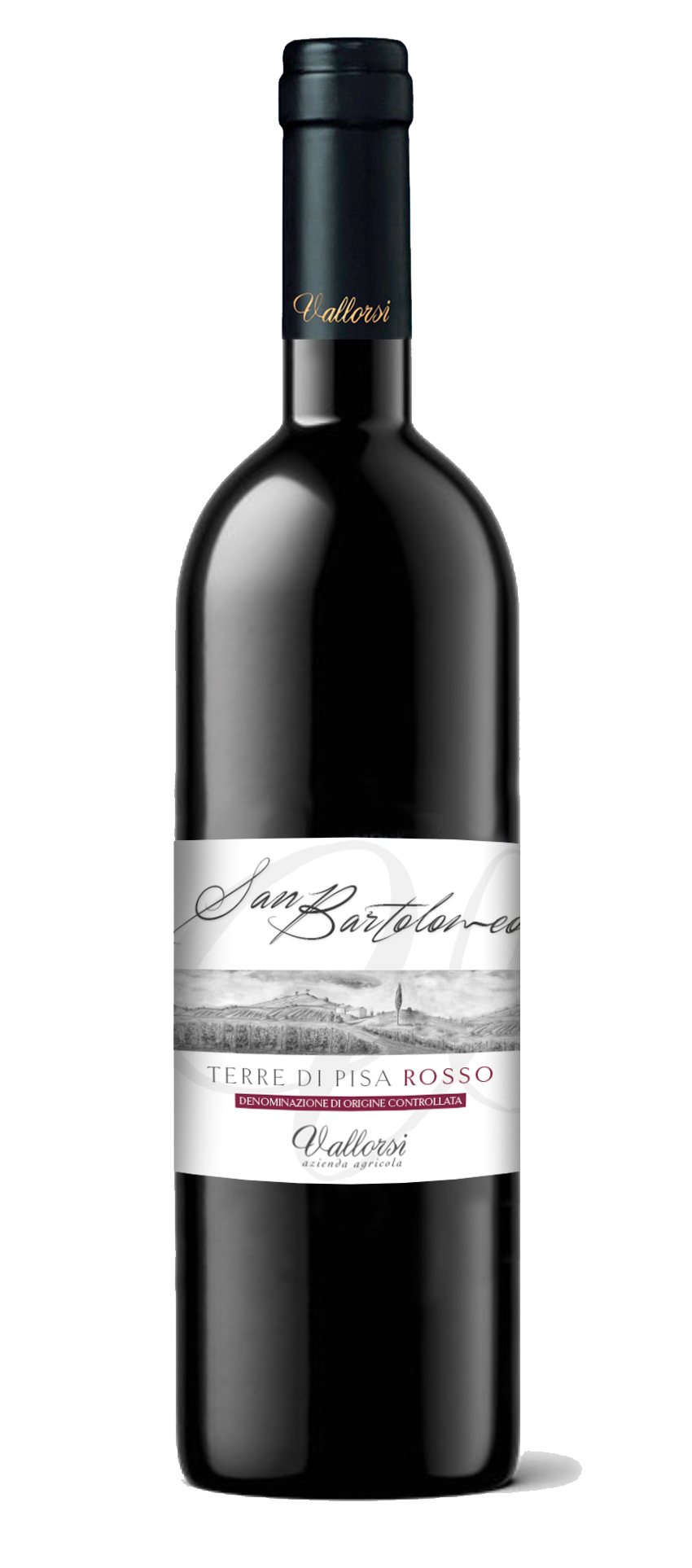 San Bartolomeo
An amazing red, produced from Sangiovese grapes,
Merlot, Cabernet Sauvignon and Syrah which expresses all peculiar characteristics of the Vallorsi company territory.
An important name, that of the patron saint of the neighbor Morrona locality.
The top of the range does not betray expectations.
TERRE DI PISA ROSSO D.O.C.
VINES: San giovese, Cabernet Sauvignon, Merlot and Syrah.
SOIL: sandy (85%), with the presence of clay (10%) and silt (5%), light colored, medium depth.
PLANT DENSITY: 4,200 plants per hectare.
TRAINING SYSTEM: spurred cordon laid at 90 cm.
PRODUCTION PER HECTARE: 50 quintals.
PRODUCTION TECHNIQUE
The grapes are hand picked and inserted
in the classic bigonce and then poured into a special trailer to be transported to the cellar. After careful selection, they are de-stemmed and crushed. Maceration follows
13/15 days, depending on the vintage,
with frequent pumping over at a temperature of 28 ° C.
Malolactic fermentation takes place
in steel tanks.
It is refined in barriques
of first, second and third passage and a further refinement of 6 months in bottle follows.
Bottles produced: 4,000 per harvest.
TASTING NOTES
Intense ruby ​​red color.
The nose is rich and characteristic. On the palate it harmonizes the varietal characteristics of the grape with the aromatic component of the wood.
PAIRINGS
Red meats, roasts and game.
SERVICE TEMPERATURE
18 ° / 20 °

The Azienda Vallorsi is located in the heart of the Tuscan countryside, in the center of the wine route of the Pisan hills.
Vallorsi is one of the most prestigious wineries in Tuscany, with its six apartments it is also a comfortable and spacious farmhouse, ideal for a stay in which to relax in the charm of the surrounding nature.
Email: info@vallorsi.it
Tel: 0587 658470
Opening Hours 8.00 – 17.30