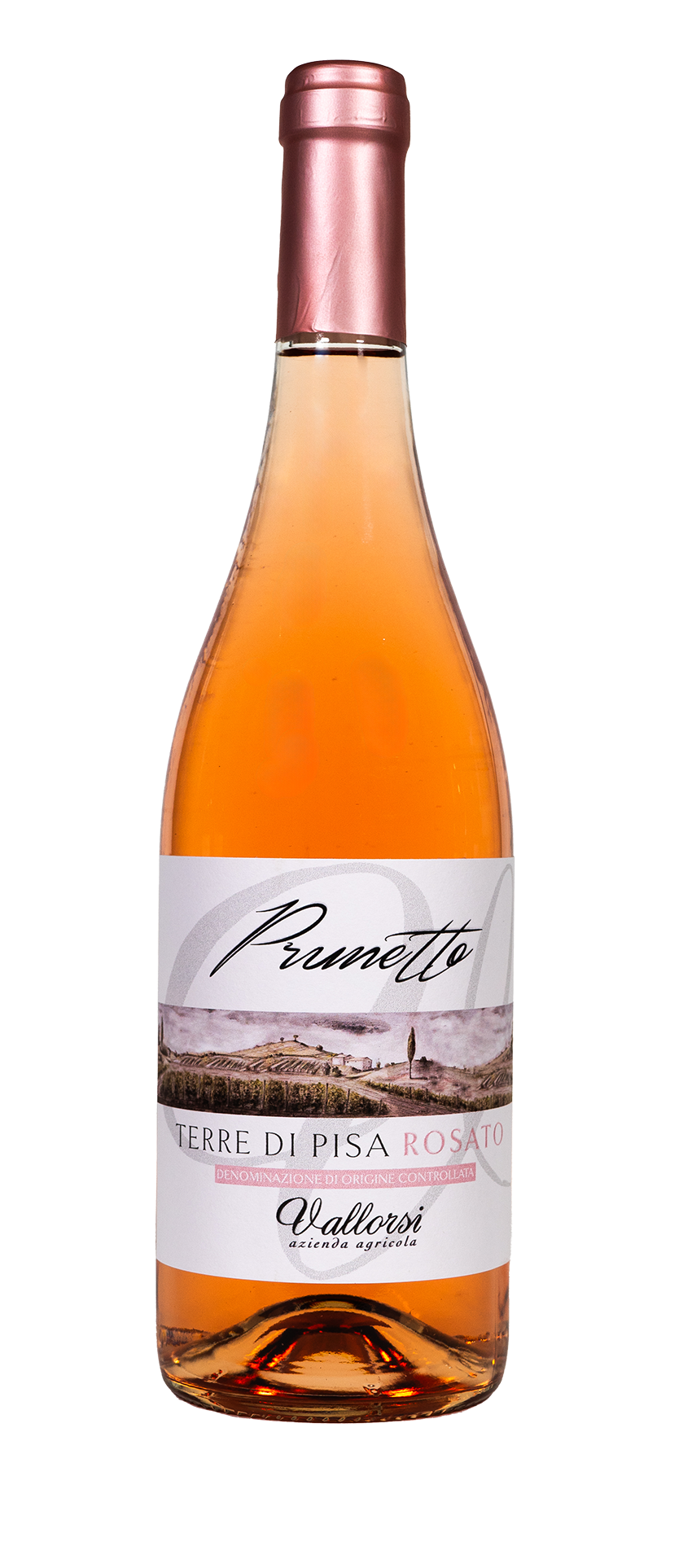 Prunetto
The Rosè can never be missing from our winery.
The peachy pink contributes to the elegance of this wine, along
with its fresh and often fruity aroma and delicate body, light but
with depth. The Prunetto vines sweetly outline the hill adjacent to
the estate. A limited production due to its particular characteristics,
but a simply delightful product.
TUSCAN ROSÈ PROTECTED GEOGRAPHICAL INDICATION (IGT)
---
Grape Varieties: Sangiovese (90%)
Soil: Sandy (80%) with clay (15%) and silt (5%), dark
coloured, average depth with some fossil content.
Vine Density: 4.200 plants per hectare.
Planting System: Runner system staked at 90 cm.
Production per Hectare: 7000 Kg
---
Production Technique: The bunches of Sangiovese are
harvested by hand. The grapes are stripped, then macerated
in steel tanks until the colour has reached the desired intensity
and nuance. At this point it is racked (the musts are not
pressed) and controlled temperature fermentation at 15/16°C
begins. After fermentation, the coarser sediment is racked away
and aging begins on the fine sediment with weekly stirring until
January.
---
BOTTLES PRODUCED: 3,000 / year
---
Tasting Notes: Pale old rose colour. The bouquet's first
impact is decidedly fruity, dominated by the fleshy fragrance
of Marchiana cherry, Sangue di Drago damson and hints of
strawberry. Light perceptions of rose petal and mineral sapidity.
The good structure, tempered by a strong acidic support,
surprises the mouth. The end note is satisfyingly long for this
type of wine.
---
Accompaniments: Works very well with seafood dishes, such
as some of the raw dishes – red prawn, tuna tartare, jack
mackerel, blue mackerel – or Catalan or stews. Excellent with
sauce-based starters and the wonderfully typical pasta and
tomato. Perfect with cold meats with a strong fat component,
such as bacon, jowl and soppressata brawn. Delicious with the
normally tough to accompany liver and onions.
SERVING TEMPERATURE: 18 ° / 20 °

The Azienda Vallorsi is located in the heart of the Tuscan countryside, in the center of the wine route of the Pisan hills.
Vallorsi is one of the most prestigious wineries in Tuscany, with its six apartments it is also a comfortable and spacious farmhouse, ideal for a stay in which to relax in the charm of the surrounding nature.
Email: info@vallorsi.it
Tel: 0587 658470
Opening Hours 8.00 – 17.30