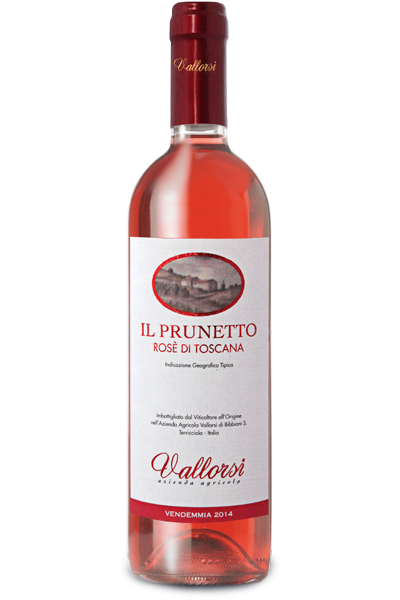 Prunetto
The fresh rosé of Vallorsi
ROSE 'DI TOSCANA IGT
VINES: 100% Sangiovese;
SOIL: sandy (85%) with the presence of clay (10%) and silt (5%) of light color, medium depth;
EXPOSURE: south;
PLANT DENSITY: 4,200 plants per hectare;
TRAINING SYSTEM: spurred cordon laid at 90 cm;
PRODUCTION PER ha: 70;
VINIFICATION
The Sangiovese grapes are hand-picked. The grapes are de-stemmed and maceration is carried out in the tank until the color has reached the desired intensity and nuance. At that point it is "drawn off" (the marc is not pressed) and controlled fermentation is started which is carried out at 18 ° C. At the end of fermentation the coarser lees are removed with a racking and a refinement begins on the light lees with weekly agitation until January.
BOTTLES PRODUCED: 3,000 / year
WINE PAIRING: With all types of appetizers. Excellent with first courses and fish soups, Tuscan soups and all vegetable dishes. Due to its limited alcohol content it is also ideal to accompany quick snacks.
SERVING TEMPERATURE: 10 ° / 12 °

The Azienda Vallorsi is located in the heart of the Tuscan countryside, in the center of the wine route of the Pisan hills.
Vallorsi is one of the most prestigious wineries in Tuscany, with its six apartments it is also a comfortable and spacious farmhouse, ideal for a stay in which to relax in the charm of the surrounding nature.
Email: info@vallorsi.it
Tel: 0587 658470
Opening Hours 8.00 – 17.30