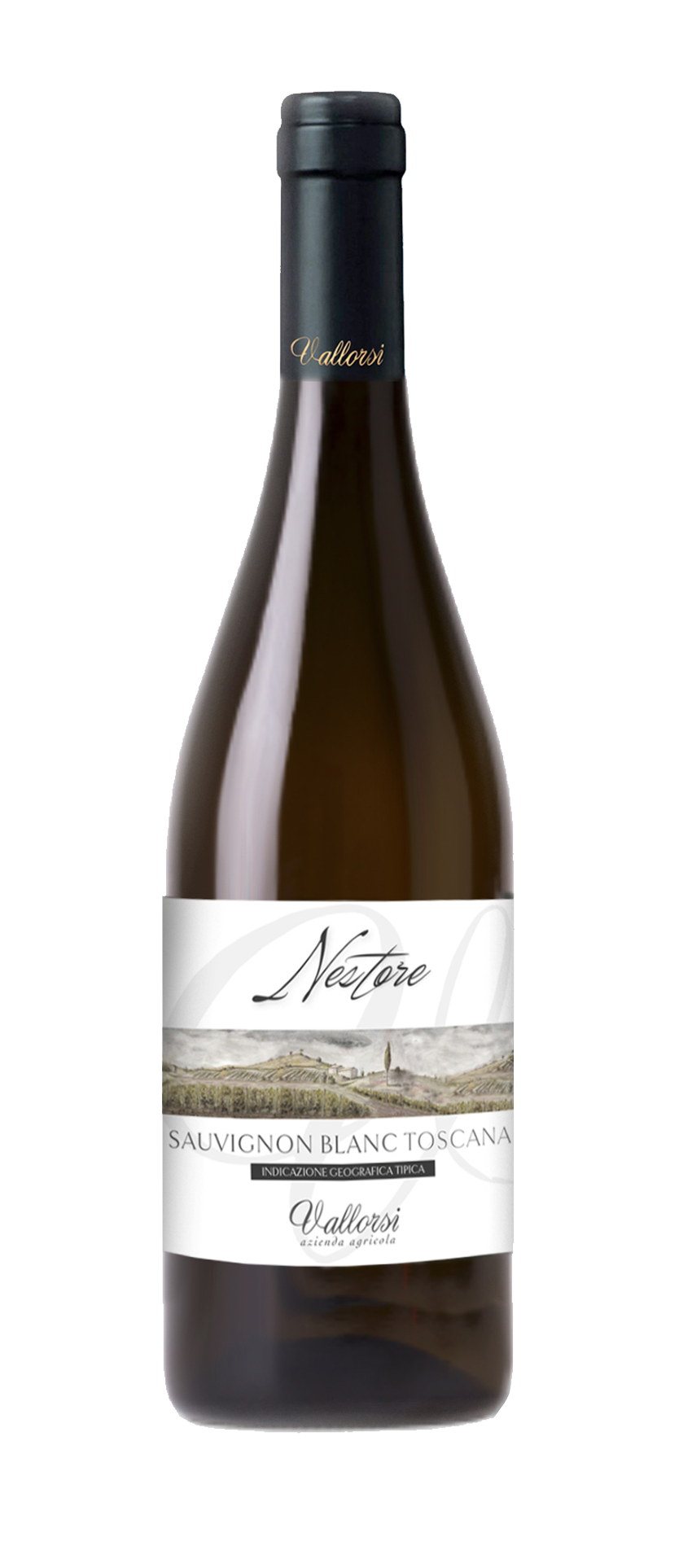 Nestore
Nestore with its intense, fruity fragrance deriving from the
special features of Sauvignon Blanc.
Discreetly and elegantly accompanies light, fresh dishes.
Despite the old name from one of our great-uncles,
Nestore is the winery's latest arrival!
---
TUSCAN SAUVIGNON BLANC – PROTECTED GEOGRAPHICAL INDICATION (IGT)
Grape Varieties: Sauvignon Blanc.
Soil: Sandy mix (90%), very light coloured, shallow.
Vine Density: 4,200 plants per hectare.
Planting System: Guyot, staked at 90 cm.
Production per Hectare: 8000 kg
---
Production Technique: The grapes are transported to the
winery after harvesting by hand. After careful selection, they are
stripped and pressed. The must is clarified and fermentation is
brought to a controlled temperature of 15-16°C in steel.
After fermentation, the coarser sediment is racked away and
aging begins on the fine sediment with weekly stirring until
January.
---
BOTTLES PRODUCED: 3,500 per harvest.
---
Tasting Notes: Straw yellow with golden reflections. Intriguing
bouquet with notes of yellow peach, floral hints of rose and
linden, and the tiniest spiced perceptions of nutmeg.
Strong harmony and balance on the palate due to maturing of
the grapes that allows them to lose that plant pungency typical
of premature harvests of this particular grape.
---
Accompaniments: Superb with oven-baked fish and
vegetables, shellfish, vegetable soups and stews, and omelettes.
It has proved its worth with truffle-based dishes such as Alba
tartare, tagliolini with truffle, eggs and truffle. Also perfect with
cheese dishes such as fondue and soft and lightly herbed dairy
products.
---
SERVING TEMPERATURE: 10 ° / 12 °

The Azienda Vallorsi is located in the heart of the Tuscan countryside, in the center of the wine route of the Pisan hills.
Vallorsi is one of the most prestigious wineries in Tuscany, with its six apartments it is also a comfortable and spacious farmhouse, ideal for a stay in which to relax in the charm of the surrounding nature.
Email: info@vallorsi.it
Tel: 0587 658470
Opening Hours 8.00 – 17.30