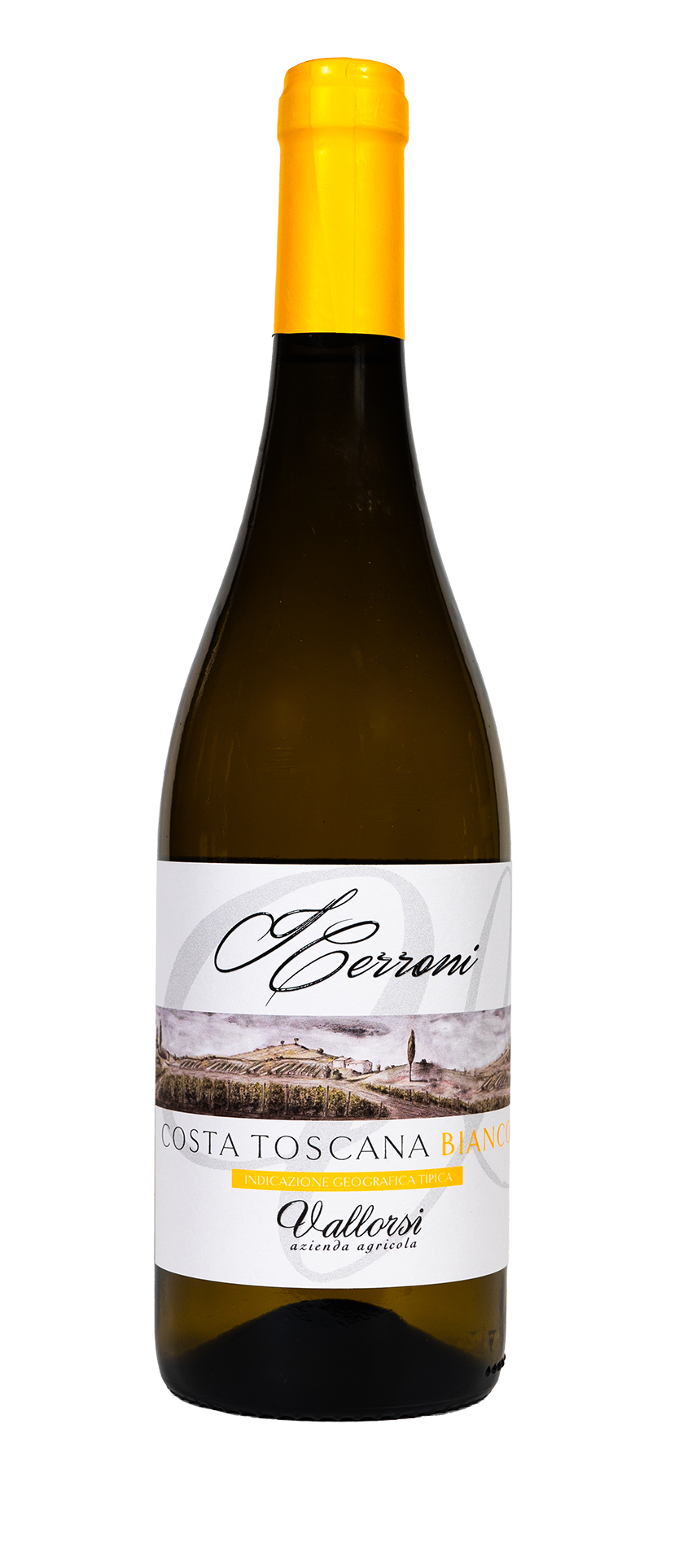 I Cerroni
I Cerroni is an excellent representative of Tuscan White,
fresh and balanced. A characteristic name, taken from
an experimental grape variety created in the 1980s in
partnership with the University of Pisa, dominated by a
turkey oak wood.
---
TUSCAN WHITE PROTECTED GEOGRAPHICAL INDICATION (IGT)
Grape Varieties: Mix of white grapes.
Soil: Sandy mix (90%), very light coloured, shallow
Vine Density: 3.200 Plants per hectare.
Planting System: Guyot, staked at 100 cm.
Production per Hectare: 8000 kg.
Production Technique
The grapes are transported to the winery after harvesting by hand. After careful selection, they are stripped and pressed. The must is clarified and fermentation is brought to a controlled autoclave temperature of 15-16°C in steel. After fermentation, the coarser sediment is racked away and aging begins on the fine sediment with weekly stirring until January.
---
Bottles produced: 10,000 per harvest
TASTING NOTES
Light straw yellow. A highlight is the tropical fruit fragrance of pineapple, completed by citrus nuances and hints of Mediterranean aromatic herbs. Good harmonic structure with a long and pleasant end note.
---
Accompaniments: The tiniest residual quantity of CO2, due to the production technique, together with the good structure makes this a versatile wine for many foods, and by many preferred to the bubbles in accompaniments normally reserved for sparkling wines. Perfect with fried dishes (seafood, vegetables and poultry) or raw fish and meat dishes, such as carpaccio and tartare, and with cold meats
---
SERVING TEMPERATURE
10 ° / 12 °

The Azienda Vallorsi is located in the heart of the Tuscan countryside, in the center of the wine route of the Pisan hills.
Vallorsi is one of the most prestigious wineries in Tuscany, with its six apartments it is also a comfortable and spacious farmhouse, ideal for a stay in which to relax in the charm of the surrounding nature.
Email: info@vallorsi.it
Tel: 0587 658470
Opening Hours 8.00 – 17.30