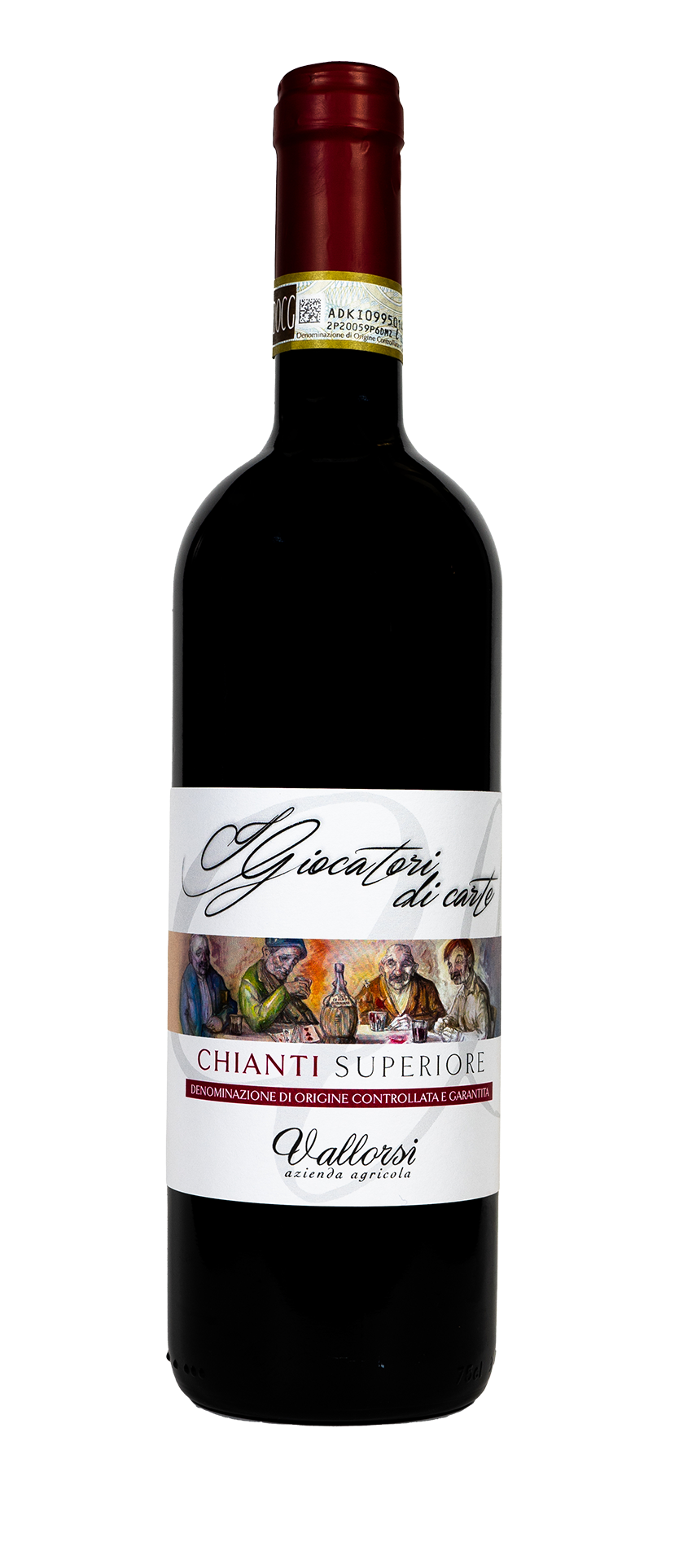 I Giocatori di Carte
From Sangiovese grapes, this Chianti is characterised by the
fruit, intense fragrance and ruby colour, key notes for a wine
that has always represented our brand and our territorial origin.
So here we have the cheerfulness of these card-playing drinking
buddies, Tuscan wine growers through and through, an evening
vigil that the artist Ademaro Musetti gifted to us and which we
have softened with a touch of irony.
---
Chianti Superiore D.O.C.G. CONTROLLED AND GUARANTEED DESIGNATION OF ORIGIN (DOCG)
Grape Varieties: Sangiovese 90%, Malvasia e Canaiolo.
Soil: Sandy (85%) with clay (10%) and silt (5%), light
coloured, average depth.
Vine Density: 4.200 plants per hectare.
Planting System: Runner system staked at 90 cm.
Production per Hectare: 6500 kg.
---
Vinification: The grapes are harvested by hand and placed
in the classic tubs before being emptied into a special trailer
for transport to the winery. After careful selection, they are
stripped. This is followed by 13/15 days of maceration,
depending on the vintage, with frequent racking at a
temperature of 28°C. Malolactic fermentation is in steel tanks.
Aged in cement tanks for at least 6 months.
---
Bottles produced: 33,000 per harvest.
---
Tasting Notes: Lively ruby colour. A fresh bouquet with aromas
of red fruits such as cherry and black cherry, with notes of
pomegranate and the tiniest floral sensations. Intriguing plant
nuances of dew-drenched lawns, hints of Mediterranean aromatic
herbs and fresh liquorice root. Slightly balsamic. The palate
confirms the expectations of freshness, enhanced by the good
acidity. The tannin is pleasantly perceived as it blends well with the
other components. Dry end note invites another sip
---
Accompaniments: A full meal wine to accompany Tuscan
cuisine. Goes perfectly with cold meats and fresh or moderately
matured pecorino, prosciutto and pod vegetables, ragù,
Tuscan ribollita, tripe, rabbit and chicken chasseur, roasts and
barbecues, mushroom sauces, bordatino soup, sausage and
bean stew. Ideal with Livornese seafood cuisine where the fish
is cooked with fresh tomato sauce as in Cacciucco fish stew.
---
SERVICE TEMPERATURE
18 ° / 20 °

The Azienda Vallorsi is located in the heart of the Tuscan countryside, in the center of the wine route of the Pisan hills.
Vallorsi is one of the most prestigious wineries in Tuscany, with its six apartments it is also a comfortable and spacious farmhouse, ideal for a stay in which to relax in the charm of the surrounding nature.
Email: info@vallorsi.it
Tel: 0587 658470
Opening Hours 8.00 – 17.30