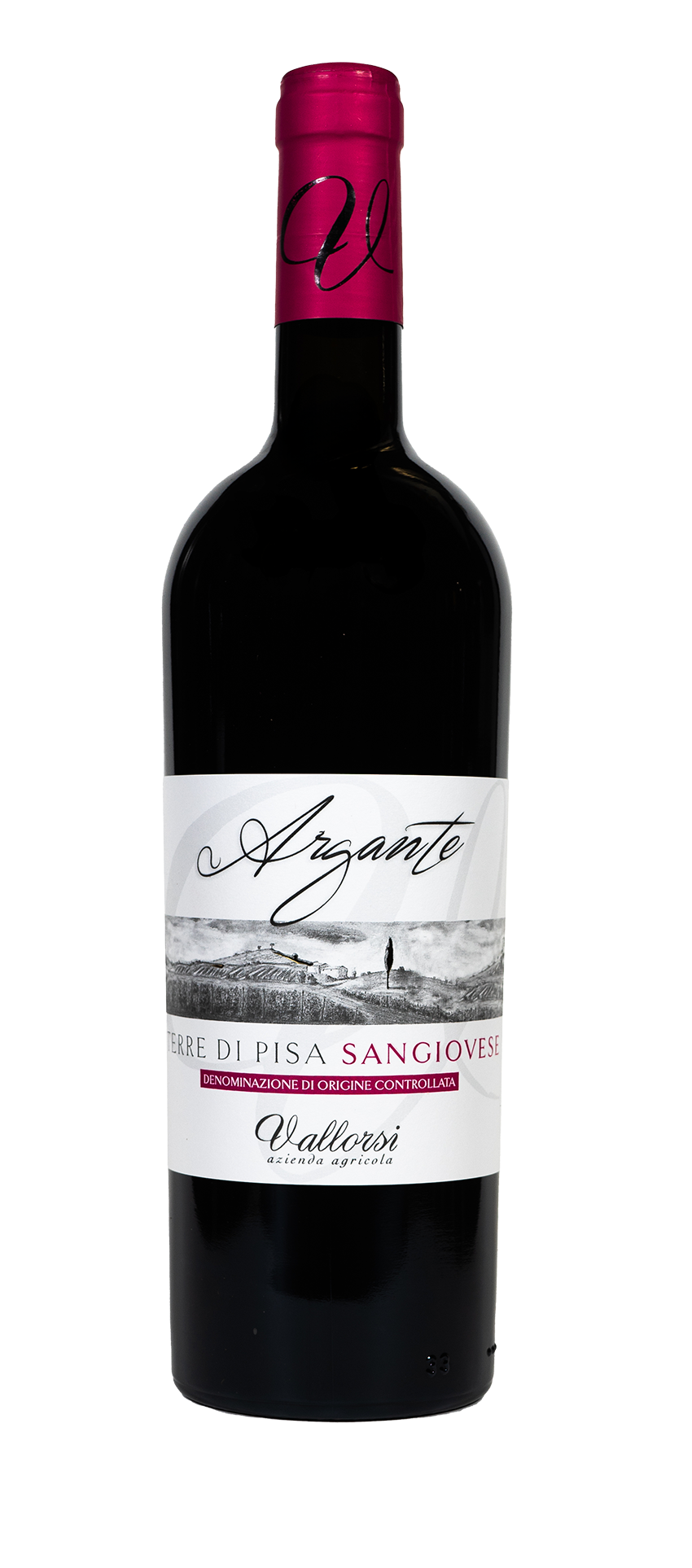 Argante
An exclusive nectar, the result of a continuous search for
excellence and the attention we dedicate to our vineyards
and your senses. From the vinification process and aging
in tonneaux that we reserve for our best grapes. Especially
dedicated to Argante, one of our forefathers, who passed
down to us this passion and culture for wine, and who
today we remember for his endless wisdom.
---
TERRE DI PISA SAN GIOVESE CONTROLLED DESIGNATION OF ORIGIN (DOC)
Grape Varieties: Sangiovese
Soil: Sandy (85%) with clay (10%) and silt (5%), light
coloured, average depth Vine density: 4,200 plants per
hectare.
Vine Density: 4,200 plants per hectare.
Planting System: Runner system staked at 90 cm.
Production per Hectare: 5000 kg.
---
Production Technique: The grapes are harvested by hand
and placed in the classic tubs before being emptied into
a special trailer for transport to the winery. After careful
selection, they are stripped. This is followed by 13/15 days of
maceration, depending on the vintage, with frequent racking
at a temperature of 28°C. Malolactic fermentation is in steel
tanks. Aging is in tonneaux for at least 12 months, followed by
a minimum of 4 months aging in the bottle.
---
Bottles produced: 4,000 per harvest.
---
Tasting Notes: Intense ruby colour. The bouquet enthrals with
its deft olfactive card switches between sweet and bitter. Sweet
notes of lightly ripened fruit hinting at blackberry, black cherry
and plum, blending with those of boisè and vanilla and all
balanced together with the more bitter notes of Mediterranean
flora, coffee beans and powdered cocoa. The soft tannin
structure is satisfying on the palate. Dry and discreetly
persistent end note.
---
Accompaniments: An absolute must is as accompaniment to
a steak or carved meats, where this Sangiovese, strengthened
by careful selection, creates harmony by merging with the
bittersweet flavours of the food (the rare interior with the
grilled exterior). For other combinations, well-structured dishes
are recommended. With pork for example, also in stews, and
feathered game, particularly starters such as pheasant and
wood pigeon. Excellent with hard, mature cheeses such as
pecorino and grana.
---
SERVICE TEMPERATURE
18 ° / 20 °

The Azienda Vallorsi is located in the heart of the Tuscan countryside, in the center of the wine route of the Pisan hills.
Vallorsi is one of the most prestigious wineries in Tuscany, with its six apartments it is also a comfortable and spacious farmhouse, ideal for a stay in which to relax in the charm of the surrounding nature.
Email: info@vallorsi.it
Tel: 0587 658470
Opening Hours 8.00 – 17.30